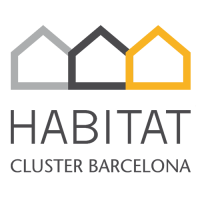 Habitat Cluster Barcelona
Habitat Clúster Barcelona is a business association with a legal and non-profit nature whose main objective is to promote and contribute to the competitiveness of the entire chain of value of the habitat sector in Catalonia.
We work transversally with companies in the sector to innovate, we help in the evolution of business and focus on shared strategic challenges.
BRONZE labelled cluster with 55 members with the following distribution 46 SMEs, 5 largecompanies and 4 research centres. Member of Catalan Cluster Network
HCB main projects:
Habitat Talent Awards: The Habitat Cluster Barcelona (HBC) has created the first "Habitat Talent Awards" in Catalonia, awards that aims to put in value the talent of the habitat sector.
Circular economy project to reduce bulky waste products in the sector:
Mattresses, sofas and furniture are part of the bulky waste generated in Catalonia. The main objective of the project is to reduce or avoid the generation of bulky waste and increase recycling, as well as to encourage manufacturers to employ strategies to maintain the value of their products longer.
Disruptour: 
The objective of this project is to acquire knowledge and implement innovation strategies in cluster companies, through the analyses of global mega trends of the most innovative companies worldwide, organise visits to these companies (as Google, Amazon and HP) and analysis lessons learnings.