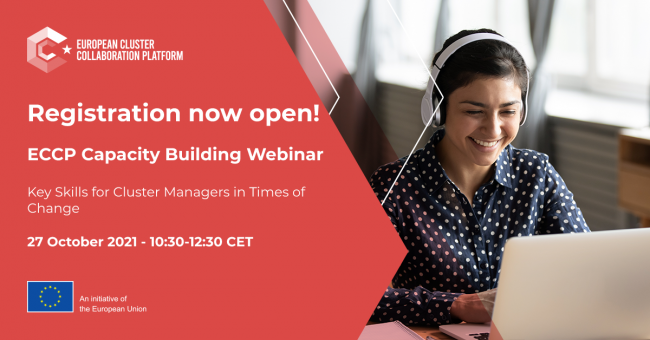 ECCP's 8th capacity building webinar on skills
Developing strong cluster organisations and improving internal management processes are key to increased resilience and fostering the green and digital transition.
The 8th ECCP capacity-building webinar on 27 October at 10:30 am CEST will provide insights on how clusters can develop their skills to further professionalise their cluster organisations.
In the webinar, we will also discuss how cluster labelling can help you to develop your management skills and present the European Strategic Partnerships on Excellence.
You will gain insights on relevant skills for building strong clusters and hear about practical examples from the community and your peers. You will also learn about how the right skill set can help cluster organisations to successfully address current challenges and get ideas how clusters can support up- and reskilling regional labour markets.
Our capacity-building webinar is tailored for cluster managers and cluster staff involved in running and managing their clusters from COSME participating countries. Of course, we also welcome anyone else interested from COSME participating countries.
Confirmed speakers at the event are:
The agenda is visible here.
Event organised by ECCP