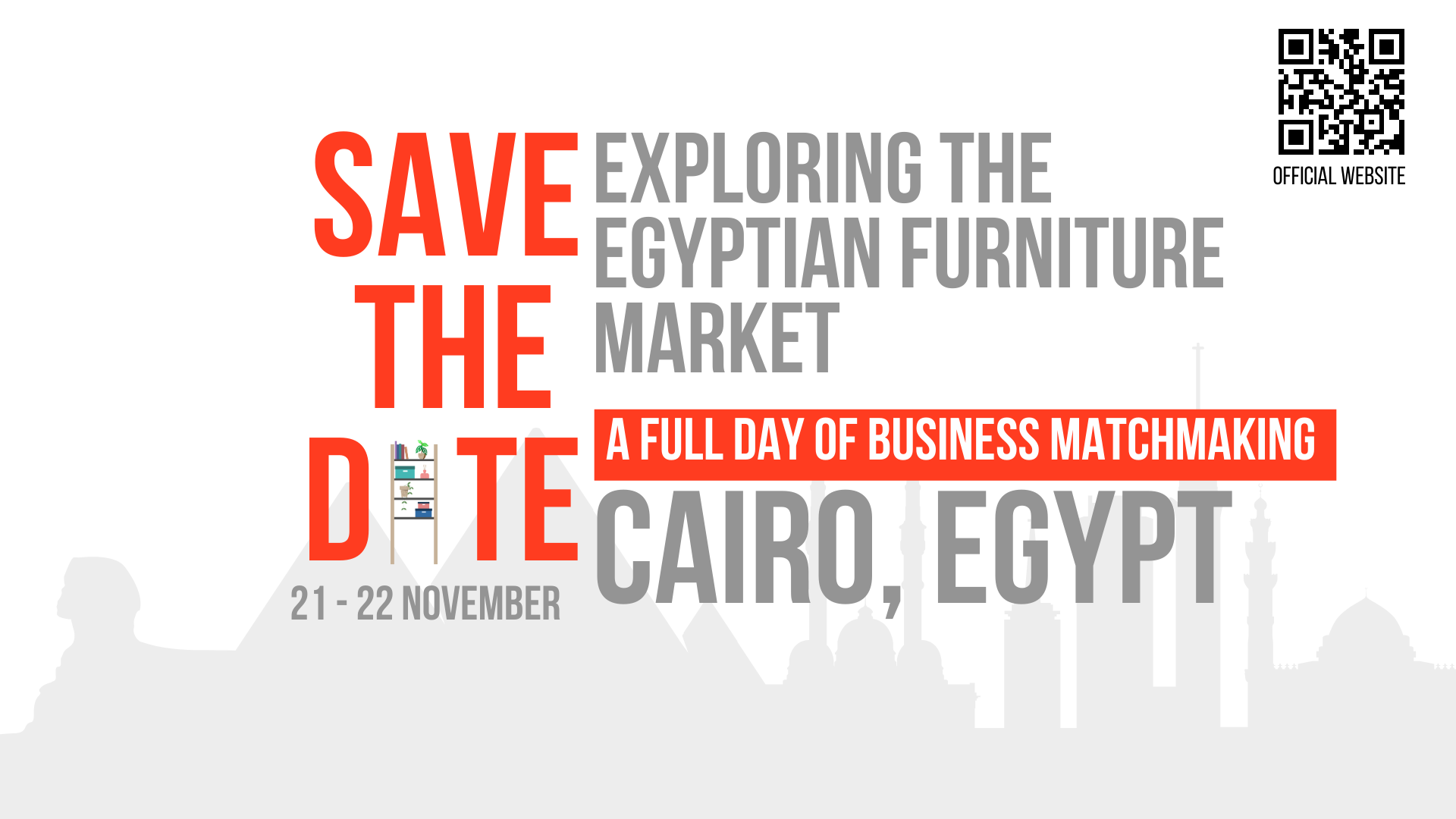 Business Matchmaking Event in Cairo, Egypt: Connecting the international furniture industry Cairo, Egypt – November 21, 2023
Cairo Design Week is set to become the epicenter of an exciting two-day event as Furniture Go International (FGOI), Europe's leading network for furniture and interior decoration, brings together a diverse group of industry players. With the primary objective of facilitating internationalization for furniture companies in markets like the USA, Canada, Egypt, and South Africa, FGOI will organize a business matchmaking event on November 21st in Cairo, Egypt, in the middle of all the activities.
A day dedicated to business matchmaking – 21st November
From 9 in the morning until the afternoon, each European company will have their own space for product exhibition and catalogues and will have the opportunity to interract with the participants, with the whole event being organised at the Hilton Cairo Heliopolis Hotel, on Uruba Street, Heliopolis.
Representing a consortium of companies from across Europe, including Slovenia, Sweden, Romania, Bulgaria, Czech Republic, and Spain, along with strategic industry clusters, this international delegation aims to:
Building relationships among European and Egyptian companies;
Identify synergies in business cooperation;
Get inspired by the market and explore the potential of doing business in the Egypt.
A day of exploration: The Mivia Installations Tour – 22nd November
On the second day, November 22nd, the delegation will embark on a tour of the Mivia Installations. Mivida, located in New Cairo, is an extension of the Egyptian capital, designed to address the city's housing challenges. Within this new development, the renowned international architectural firm, L35 (with offices in Madrid), has played a pivotal role in creating significant facilities such as the mall and the landscape and architectural design for the area's centerpiece, the lake.
Thanks to exploratory visits organized in 2022 and the strong relationships forged among project partners and stakeholders in Egypt, this event is poised to be a catalyst for collaboration and growth. FGOI invites industry professionals to seize this unique opportunity to exchange ideas, collaborate, network, and create new prospects among European and Egyptian partners.
The overarching business mission will unfold from November 21st to 22nd, offering a range of activities and participation opportunities. Attendees can expect to engage in identifying business prospects, explore Cairo Design Week, visit on-site locations, and benefit from knowledge exchange with industry experts.
We will also have the pleasure of presenting you our FGOI Ambassador, our main point of contact between continents.
Contact your cluster representative for more information: fgoi.eu/fgoi-consortium