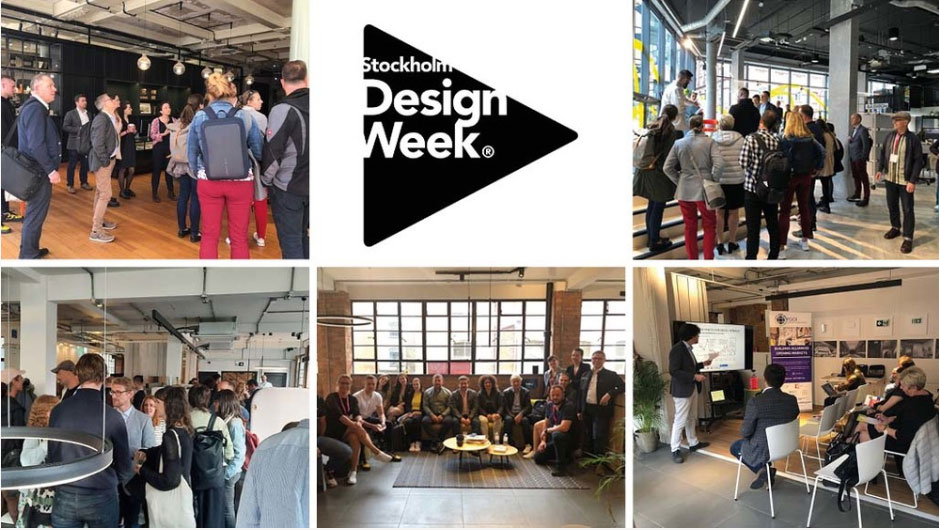 FGOI – Cluster visit in Sweden, organised by the Interior Cluster Sweden
Representatives of the FGOI consortium will attend on 7-8 September a cluster visit organised by Interior Cluster Swden, in the in the context of sharing knowledge about the European furniture market, support networking among European delegations and facilitate the formation of collaborative partnerships between participants.
The visit will be organised in the context of Stockholm Design Week 2022, during which industry insiders and the public are invited to attend design events, exhibitions, open studios and talks.
The participants at the cluster visit will be introduced to new contacts, obtain a more profound understanding of why Swedish well-known brands made an impact internationally as well as give an insight into modern production plants and supply chain management. Moreover, participants will also gain a better understanding of Swedish furniture design and manufacturing history, how sustainability perspectives developed to form the Swedish design nation of today.
The program includes a variety of visits and meetings:
7 September:
IKEA Museum, Älmhult
Meet TBD, guide at IKEA Museum
IKEA Museum is for anyone who's curious about IKEA. Curious about the history, curious about design, or curious about how Ingvar Kamprad from Agunnaryd created the global company they are today. Or you may just be curious to see what the very first IKEA store looked like.
Kinnarps production plant, Skillingaryd (hybrid online)
Meet Thomas Wilsson, plant Manger and chairman of Interior Cluster Sweden.
Kinnarps provides interior workspace solutions for offices and public environments. High quality and low environmental impact mark the entire chain – from raw material to finished solutions for the workspace. Kinnarps has six production plants in Sweden. Production and assembly are carried out in Kinnarp, Jönköping, Skillingaryd, Vinslöv, and Tranås (2).
Interior Cluster Sweden – what we do and how we do it. (hybrid online)
Meet Anna Rosenqvist, Cluster Manager.
Interior Cluster Sweden, a non-profit membership organisation, is based in the geographical southern hub of furniture producers and suppliers. We opt to drive sustainable innovation, stimulate new ventures, and smart specialisation. The ambition is also to offer support in areas such as internationalisation, competence, and product development. We liase with international organisations generating business benefits through innovative business development projects.
Linnaeus Knowledge Environment Digital Transformations (hybrid online)
Meet Sadaf Salavati and Erdelina Kurti , researchers at Linnaeus University.
Society and business face new challenges and opportunities where digital, social, economical, environmental and political factors contribute to unforeseen complexity and multidimensional problems. With Systems Thinking we can achieve a holistic perspective and identify synergies and emergent properties that we cannot achieve with a linear mechanical thinking. We can gain an understanding of what is complex, dynamic and/or chaotic.
8 September:
Swedish furniture and interior industry – history, design, facts & figures (hybrid online)
Meet Lars Bülow, Möbeldesign museum.
900 pieces of design furniture by over 300 designers!
The Museum of Furniture Studies is based on the private collection of Kersti Sandin and Lars Bülow. This comprehensive collection has been built up over their 40 years of experience as professional designers and architects and has arisen from a shared interest in Scandinavian and international furniture design.
Showrooms @Stockholm Design week
Stockholm Design Week was initiated in 2002. It makes Stockholm the place to be for purchasers, architects, designers and journalists during one week in February and one week in the autumn.
Design events in a variety of venues across Stockholm, from galleries and showrooms to dinner parties, after fair meetings, opening cocktails, museums and cultural institutions. Everyone in anyway connected to, or interested in, Scandinavian design meet and thrive, leaving with new ideas, contacts and lots of inspiration.
Check out the agenda!
For information about the full cluster visit, contact anna.rosenqvist@interiorcluster.se