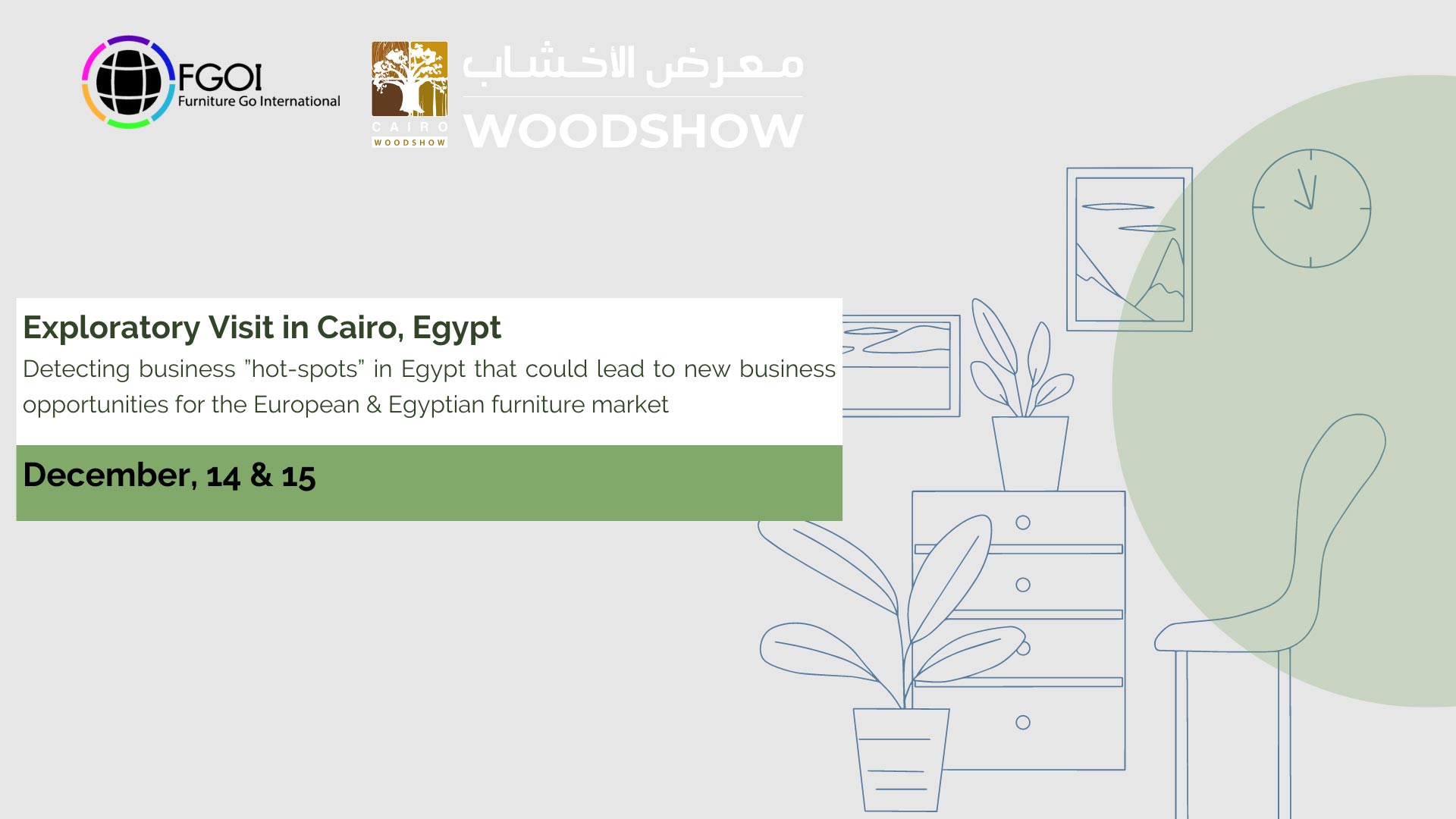 FGOI: The final exploratory visit in Third Countries – Cairo, Egypt
14-15 December
The exploratory missions of FGOI's targeted third countries are coming to an end!
During the last two days, a delegation of 4 cluster representatives, along with company members, will represent the Furniture Go International Project during a two-day exploratory visit in Cairo, Egypt. The exploratory mission in Egypt is the last building stone in learning about foreign markets, preparing the business matchmaking missions for next year, and planning for long-term initiatives within the project.
The visit is organized by the Wood Industry Cluster – an association of over 90 companies in the woodworking industry. The objectives of the initial exploratory visit in Egypt, Cairo are:
Identify specific market opportunities – information on the business environment in Egypt with a focus on the furniture sector
Detect at least 2 "hot spots" in Egypt that could lead to new business opportunities for the European & Egypt furniture industry
Establish formal relationships with key players in the industry: identify 2-3 key players in Egypt who could support European companies in developing new collaborative opportunities in Egypt, as well as establish a strong relationship framework with them
Create new services to support SMEs internationalization: identify internationalization added value services in Egypt and new business contacts (Associations, Construction, Contract, Furnishing).
During the visit, the Furniture Go International delegation, consisting of Wood Industry Cluster, Cluster of Czech Furniture Manufacturers, HABIC Cluster, and Transylvanian Furniture Cluster, will visit the New Cairo, will participate in a business meeting with engineering companies and, last but not least, will visit the Cairo Wood Show – one of the most relevant fair in the wood and woodworking industry.
If you want to learn more about the visit, contact the Wood Industry Cluster representative at:
Bernard Likar: grozd@sloles.com