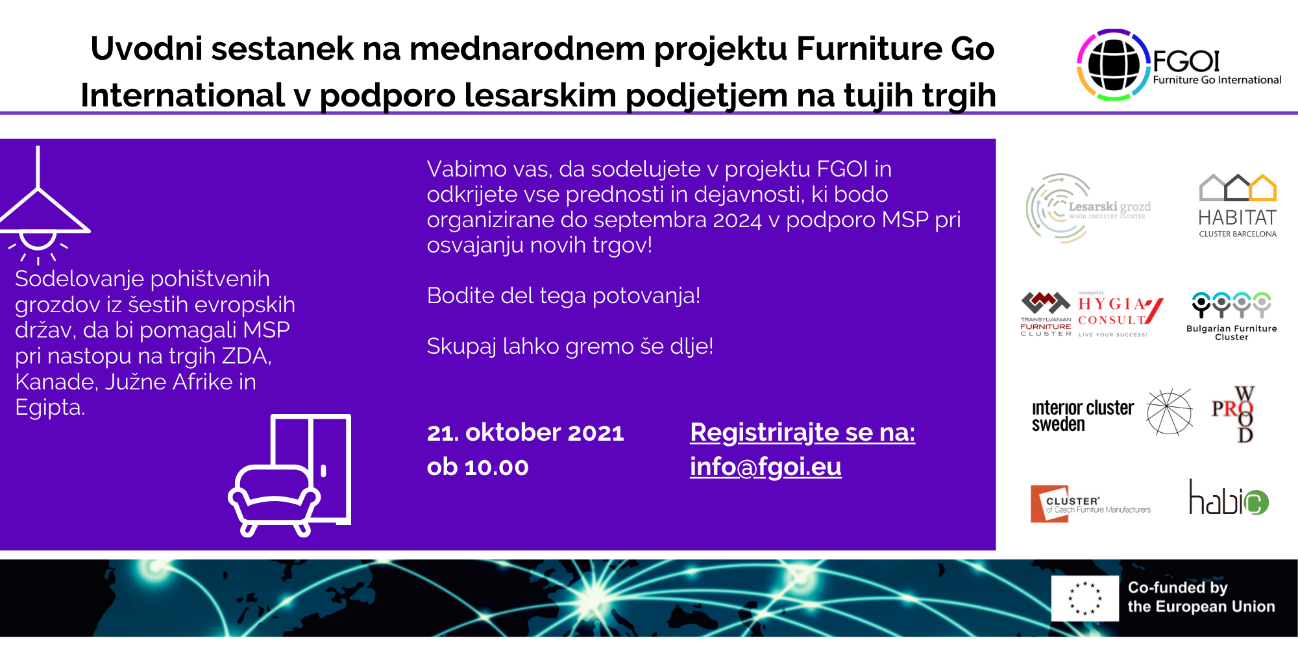 Projekt, ki ga vodi osem evropskih grozdov in financira Evropska komisija, bo s sodelovanjem in inovacijami pomagal MSP doseči nove trge. V okviru projekta bo vzpostavljeno evropsko strateško partnerstvo grozdov za okrepitev sodelovanja na področju pohištva in sorodnih industrij znotraj EU in s štirimi tretjimi državami, in sicer z ZDA, Kanado, Egiptom in Južno Afriko.
Furniture Go International (FGOI) je projekt s trdno podlago in ambicioznimi cilji, ki se je začel sredi septembra 2021 in bo trajal 3 leta. V partnerstvu je osem grozdov iz šestih evropskih držav, ki bodo prvič združili vse svoje tržno znanje in izkušnje za oblikovanje podpornih dejavnosti internacionalizacije izključno za MSP v tem sektorju in 100 % usmerjene v rezultate. Cilj je ponuditi uporabna in prilagojena orodja za pristop do trgov zunaj Evropske unije, zlasti Združenih držav Amerike, Kanade, Egipta in Južne Afrike.
Projekt predvideva na primer vzpostavitev dolgoročnih mednarodnih zavezništev, prisotnost stalnih stikov na vsakem od trgov, ki so zanimivi za zagotavljanje ustvarjanja poslovnih priložnosti in oblikovanje prilagojenih ukrepov za udeležena podjetja.
Sodelujoči grozdi so: TFC – Transilvanian Furniture Cluster (Romunija), HABIC – Basque equipment, furniture and design cluster (Španija), WIC – Lesarski grozd (Slovenija), KCN – Cluster of Czech Furniture Manufacturers (Češka), ICS – Interior Cluster Sweden (Švedska), PRO WOOD – Regional wood Cluster (Romunija), BFC – Bulgarian furniture Cluster (Bolgarija) in HCB – Habitat Cluster Barcelona (Španija).  Skupaj grozdi vključujejo več kot 500 podjetij, večinoma MSP.
Zainteresirani MSP-ji so povabljeni na uradni začetek projekta (Kick Off Meeting) 21. oktobra ob 10.00 na GZS, Ljubljana. Seja bo organizirana v hibridni obliki, udeleženci pa se morajo prijaviti TUKAJ.
Lesarski grozd že vrsto let podira lesna in pohištvena podjetja pri njihovem nastopu na tujih trgih, preko projekta FGOI pa bo skupaj z sorodnimi grozdi pristopil k oblikovanju širše mednarodne mreže, ki bo omogočala še boljšo podpro podjetjem. Lesarski grozd je v projektu odgovoren za oblikovanje akcijskega načrta med partnerstvom in mednarodnimi partnerji za nadaljnje pospeševanje dostopa do tretjih trgov ter za oblikovanje mreže poslovni ambasadorjev, ki bodo podpirali MSP v ciljnih tretjih državah.  »S projektom bomo MSP pomagali bolj strukturirano ter učinkoviteje prodreti na ciljne tuje trge, kar je za lesna in pohištvena podjetja lahko zelo koristno, še posebej v tem času zaostrenih pogojev poslovanja zaradi pandemije. Verjamemo, da bodo MSP prepoznala priložnost ter se vključila v projektne aktivnosti, saj bodo tako lahko deležna ugodnosti sodelovanja in vplivala na aktivnosti projekta." je dejal Bernard Likar, svetovalec na Lesarskem grozdu.
Evropska komisija je projekt financirala, potem ko je ugotovila, da ima COVID-19 hude gospodarske učinke na sektorje, ki običajno zahtevajo proizvode in storitve iz pohištvene in lesne industrije, kot sta turizem in maloprodaja. 70 % od 130 000 podjetij v sektorju proizvodnje pohištva v Evropski uniji je malih ali srednjih, saj zaposluje več kot milijon ljudi.
---
O tem sporočilu za javnost: Za več informacij o vsebini tega sporočila za javnost se obrnite na Cristino Castillo, vodjo projekta Habitat Cluster Barcelona (cristina.castillo@hcb.cat, T: +34) 685 107 960) ali Bernarda Likarja, svetovalca na Lesarskem grozdu (grozd@sloles.com, T: +386 1 5898 284)