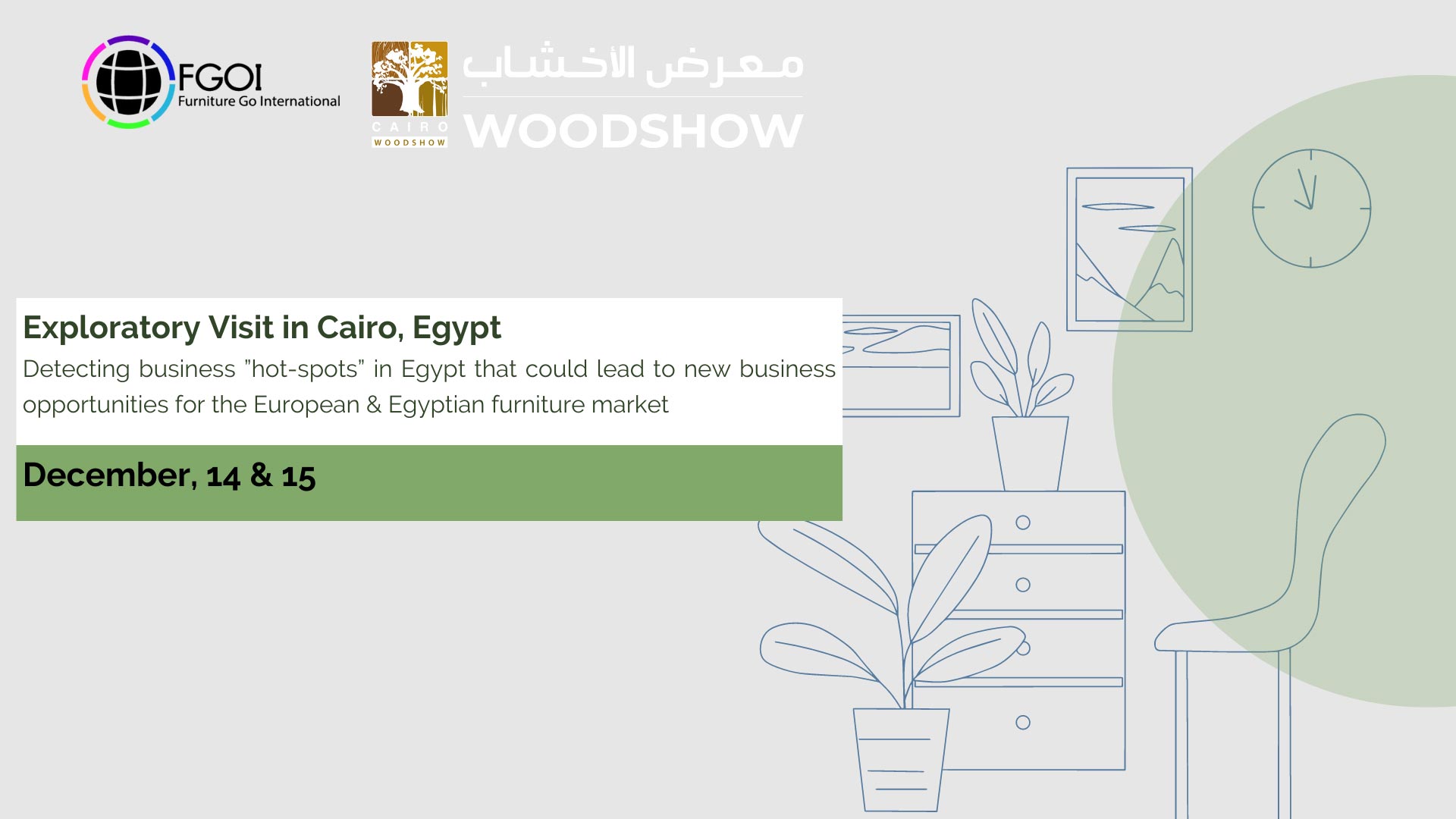 Between December 15 and 16, the FGOI delegation, in coordination with the Wood Industry Cluster of Slovenia, travelled to Cairo, Egypt, to visit the international Cairo Wood Show fair (www.woodshowglobal.com/cairo ) and to gathered insights on Egypt furniture market as preparation for next year FGOI business delegation in Egypt.
The objectives of the Exploratory visit were in line with the objectives agreed on by the consortium in the official Joint Internationalization Strategy:
Identify specific market opportunities and "hot spots" in Egypt that could lead to new business opportunities
Establish formal relationship with the key players in the Egypt industry
Create new services to support SMEs internationalisation
On December 14th, 2022, the special meetings with FGOI Project partners & Egypt key players discussion took place. On this occasion, the project and the interest of the FGOI partners was presented. Invited guests from Egypt public representatives and engineering companies presented us with a lot of information about the state and trends, some mega public investments and furnishing furniture sector in Egypt. Also information on perspective segments of furniture and how to export furniture to the Egypt.
At the Cairo Wood Show we gathered a lot of information about trends and design of furniture and wood supply, and we also learned about some potential business contacts and key people who could act as ambassadors for FGOI. Cairo Wood show is one of the largest furniture-related trade shows in Egypt, with professional participation from manufacturers, architects, representatives and associations from all over Egypt. It offers a unique opportunity to gain insight into Egypt furniture market, as well as to find new potential interesting business connections.
The exploratory visit gave us a lot of information about the market situation, trends and opportunities in Egypt, and we also established a connection with potential FGOI ambassadors in Egypt who could support us in our further activities in this very promising market. We also identified services could support FGOI partner members in the first attempt and also in the further development of business in the Egypt.
Visit the official website of the project for more information about the project's activities: fgoi.eu
The content of this news represents the views of the author only and is his/her sole responsibility; it cannot be considered to reflect the views of the European Commission and/or the European Innovation Council and SMEs Executive Agency (EISMEA) or any other body of the European Union. The European Commission and the Agency do not accept any responsibility for use that may be made of the information it contains.
Prepared by:
Bernard Likar, advisor at the Wood Industry Cluster Slovenia