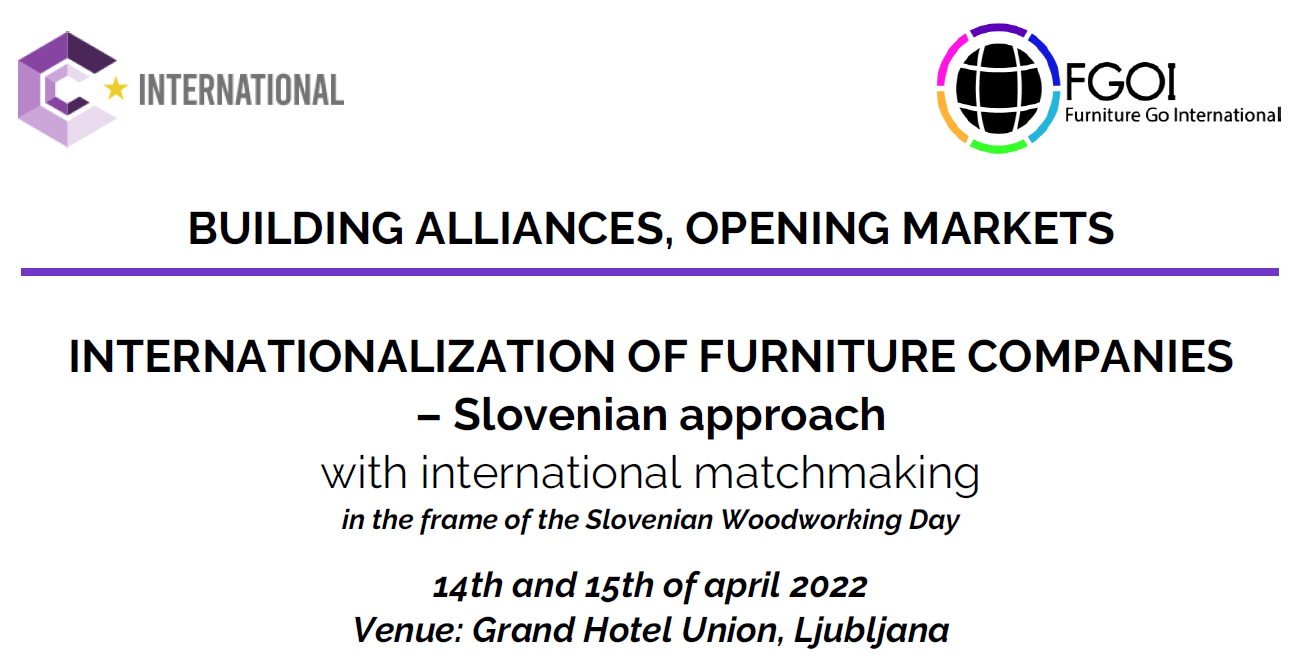 FGOI – cluster visit in Ljubljana, Slovenia
INTERNATIONALIZATION OF FURNITURE COMPANIES – event by Wood Industry Cluster (WIC) Slovenia
Slovenian approach with international matchmaking in the frame of the Slovenian Woodworking Day, that is a central multi-day sectoral event bringing together policy makers, industry and researchers. This year's central theme is Slovenia's new industrial strategy and the role of the wood sector in it, climate change and the circular economy, staffing and internationalization.
As part of the Slovenian woodworking day, a thematic section dedicated to internationalization will be organized, where the state's activities in support of the internationalization of companies, examples of good practice and the international FGOI project will be presented. International b2b networking will also be organized. A tour of a Slovenian furniture company, a meeting with the Italian Wood Furniture Home Cluster FVG and a consortium meeting will be specially organized for FGOI partners.
Please announce your participation on the Cluster visit event via the registration form.
For participation on the International b2b matchmaking event on 14th of April from 13.00 to 14.00, you will be asked, after the registration to Study visit event, to sign-up additionally on the b2b matchmaking platform, to be able to participate on on-line and on-site b2b meetings. Participation in the Cluster Study visit and b2b matchmaking event is free of charge.
WIC will cover costs of local transfer of Company visit on 14th April for FGOI partners and their companies and costs of the lunches / dinners on 14th and 15th of April as per Agenda. Each participant should cover their own costs of the hotel accommodation and travel costs. Preliminary accommodation reservation will be made by WIC on the basis of registration on the Cluster visit event.
WIC_FGOI_agenda_cluster_visit_13-15_april_2022_finalb